The Sugar Sand Tango is one of the fastest and most agile Jet Boats available, equipped with Mercury engines they are both powerful and reliable, and we have a whole fleet of them waiting for you. All of these boats are capable of seating 5 adults (as long as weight limit is not exceeded) and are available in the 175hp version or the 200hp monster – the fastest rental boat on the bay!
Jet Boat Rates:
200 hp Jet Boats (50-55+ mph):
Hrs
Rate
Gas
1
$199
$25
2
$379
$40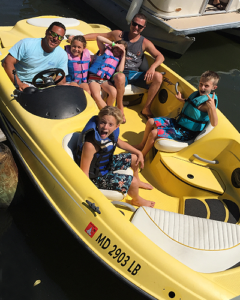 We provide an 8 square mile riding corridor, which is plenty of space to let 'em rip. Jet Boats must remain within the designated riding area and are not permitted to be docked at other locations.
All Jet Boat drivers must be 18yrs of age and be able to present a valid, government issued, photo ID at time of rental.
If you are born after July 1st 1972 you must have a valid boater's certificate to drive, or we can issue a free, temporary certificate prior to your rental.
+ $200 refundable Security deposit and applicable taxes.
All prices subject to change. Seasonal gas charges may apply.
Life vests are provided for use with all rentals free of charge.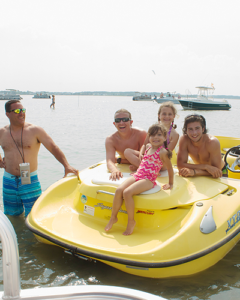 Reservations: Can be made via credit card over the phone (410-524-1948) at any time and for any date, but will be subject to a $75.00 no show or late cancellation charge. Cancellation must be made no less than 4 hrs prior to reservation time to avoid