Bayside Boat Rentals in Ocean City MD is currently renting the newest Jet Skis on the market, the 2021 Yamaha VX (1.8L – 100HP). Capable of carrying up to 3 people (as long as weight limit is not exceeded) and of ripping across the waves at as much as 50+ mph. You will not find a more exciting ride on the water, and we provide plenty of space to let 'em rip.
COVID-19 ALERT – Due to ongoing CDC recommendations and state regulations reservations are required for all rentals. At time of arrival only rental drivers will be permitted inside the office to complete paperwork. Masks will be required to enter. Please call us in advance to book your adventure: 410-524-1948.
Yamaha VX Jet Ski (45-50 mph):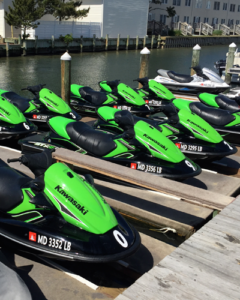 Jet Ski rentals must remain within the designated riding area and are not permitted to be docked at other locations.
Registered drivers of ALL Equipment must be SOBER! If you are visibly intoxicated you will be refused rental services. Cancellation fees will apply
All Jet Ski drivers must be 16yrs of age and be able to present a valid, government issued, photo ID at time of rental.
All drivers must arrive a half hour ahead of the sched

uled reservation time to review the Maryland boating and safety regulations and pass a standard certification exam. (This is a standard state issued test which allows us to issue you a temporary Maryland personal watercraft certification)

+ $100 refundable Security deposit and applicable taxes.
All prices subject to change. Seasonal gas charges may apply.
Life vests are provided free of charge for use with all rentals.
Reservations: Are currently required for all rentals and can be made via credit card over the phone (410-524-1948) for any date and time. All reservations will be subject to a $75.00 no show or late cancellation charge. Cancellation must be made no less than 24 hrs prior to reservation time to avoid penalty charges.
MINOR JET SKI DRIVER PAPERWORK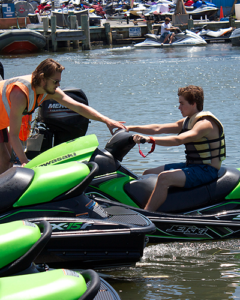 Maryland STATE LAW to requires that operators of a rental ski are at least 16 years of age and can present a valid photo ID that contains their birth date.




If you would like to give your 16 or 17 year old minor child permission to drive the jet ski, you must:

Click here to download, print and fill out the: LIABILITY WAIVER & MINOR ID FORMs.

You will need to print and sign your name in the appropriate spaces on both forms and send back to us along with a clear copy of your driver's license.Your last name and address must match that of the minor driver. You can e-mail the completed from back to us at BaysideBoatRentals@gmail.com

or fax to 410-524-1824.