THANK YOU FOR A FANTASTIC 2018 SEASON! We look forward to seeing you in 2019. Please contact us in regards to off-season rental opportunities as we are still operating our pontoon fleet weather permitting. Jetski and Jet boat rentals however are closed for the season.
Our fleet of pontoon boats consists of only top quality manufacturers, capable of holding all of your family and friends (as long as weight limit is not exceeded).
They are all equipped with Shade canopies and from the deck of a pontoon you can crab, fish, picnic or even swim. In addition to cruising the bay we allow our pontoons to be docked so you can visit many of the local establishments along the bayside.
Pontoon Rates:
| | | |
| --- | --- | --- |
| Hrs | Rate | Gas |
| 2 | $199 | $25 |
| 4 | $299 | $30 |
| 6 | $399 | $35 |
| 8 | $499 | $40 |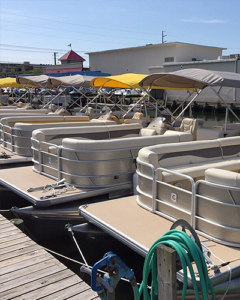 All pontoon drivers must be 18yrs of age and be able to present a valid, government issued, photo ID at time of rental.
If you are born after July 1st 1972 you must have a valid boater's certificate to drive, or we can issue a free, temporary certificate prior to your rental.
+ $200 refundable Security deposit and applicable taxes.
All prices subject to change. Seasonal gas charges may apply.
Fishing Rod Rental: $10/ rod
Crab Lines: $10 / 3 lines
Life vests are provided for use with all rentals free of charge.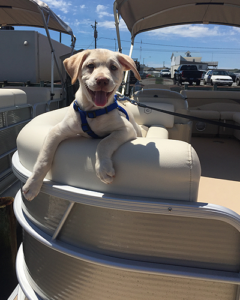 Reservations: Can be made via credit card over the phone (410-524-1948) at any time and for any date, but will be subject to a $75.00 no show or late cancellation charge. Cancellation must be made no less than 4 hrs prior to reservation time to avoid penalty charges.